In Merefa near Kharkiv, aggressor troops fire at school, cultural center - media
In Merefa near Kharkiv, early Thursday morning, due to shelling by the occupiers, a school and a cultural center were destroyed, nearby houses were also damaged, Suspilne reports, citing chairman of the local territorial community, Veniamin Sitov.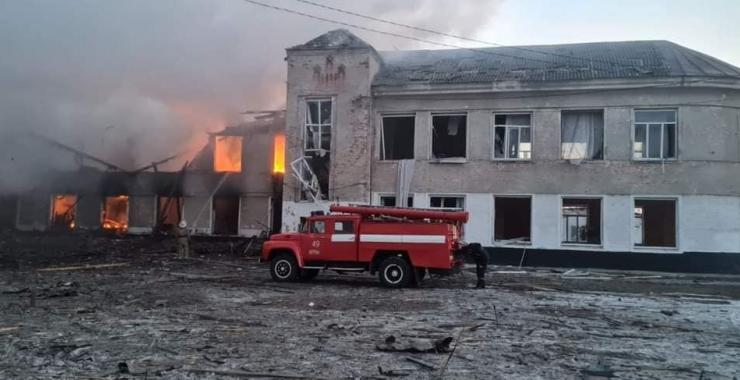 "There are casualties among the military, among civilian there are none. The center of the culture house was hit, there was nothing left of it. There were people in it. Thank God, there are no casualties among civilians, there are among the military. Civilians managed to run out to the destruction, the military were sent to the hospital. The fire at the school continues to be extinguished," Sitov also said.
Near the cultural building, the buildings of the Institute of Vegetable and Melon Growing were damaged. The second blow was inflicted on the school, there were no casualties.
"Next to the recreation center is the Institute of vegetable and melon growing, there are no windows, no roof, everything around is destroyed... The second blow was on the school, the largest school I have, hitting the center of the school. There was no one there, but the school is now on fire, it is wooden, old, now we are extinguishing," Sitov said.
As Suspilne notes, earlier on the night of March 3, in Merefa community, the aggressors bombed the village of Yakovlivka: the entire village (45 houses) was destroyed, 21 of which were completely destroyed. As a result of the bombing, 24 people were injured, three were killed, including one military and two civilians.